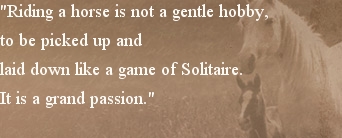 We provide all our clients a customized experience with accomplished trainers and riding instructors on our farm. We use the round pen, do ground work, and ride horses.   We are keeping safety in mind while also having FUN!!   

    We instruct all aspects of horses and horsemanship; Western, English and Gaited Pleasure and Training Level Dressage. We have trainers for all levels and all ages!  If you need to train your horse and yourself, we give reduced rate lessons to our horse boarders! 
    We want our students to feel comfortable both in and out of the saddle. We will educate you or your child on everything relating to basic horsemanship; tacking up, care and maintenance of tack, parts of the horse, parts of the hoof, how to conduct yourself around horses, ailments relating to horses, grooming techniques, care and maintenance of the stable and etc. Our specialty is educating children and timid or beginner adults. 

     Our farm is a locally owned and family-run business with Tom (Sharon's husband) and Thomas (their son) whom also loves to help and show everyone how wonderful these animals really are and how blessed we are to have them in our lives. 


Doing demonstrations at schools are fun, especially the SNACKS...shhh do NOT tell Mom!